Welcome to the Black Duck InnWaterfront Lodging On Rock Hall Harbor
The Black Duck Inn
Overlooking picturesque Rock Hall Harbor, we offer five comfortable, central air-conditioned guest rooms, and complimentary dockage for overnight guests arriving by boat. We are located in a most desired location, within easy walking distance of town, marinas and restaurants. The Inn has much to offer those who seek the serenity and charm of a unique America lifestyle that most urban and suburban dwellers seldom experience.
In the February, 2016 issue, Southern Living Magazine has designated Rock Hall as one of the south's best small towns to visit.  Southern Living Magazine
The Black Duck Inn provides bicycles, free WIFI, and a wonderful screened in porch with a view of the harbor as well as waterside picnic tables where many of our guests congregate in the late afternoon and evening.   We are centrally situated within a one minute walk to Waterman's Crab House,  a short walk to the Harbor Shack Restaurant and just a few moments to most other Rock Hall restaurants and Main Street.
Our breakfast consists of coffee, tea, fresh baked goodies, fresh fruits and juices.  Our Dockside Cafe, open Sunday mornings, is located on the premises at the harbor's edge.
Kayaking, biking and walking and eating crabs and oysters are very popular with our guests as well as the beach where incredible sunsets can be viewed. Partake of local events and festivities throughout the season. The Eastern Wildlife Refuge is a short bike or car ride away where small boats are available for rent so you can bring your gear and catch your own crabs or fish.   Don't forget your binoculars.
There are several local boat launch areas (permit required) for those who wish to trailer their boat and dock it at the inn while they are staying with us.
Other Offerings:
Gift Certificates

Black Duck Inn Gift Certificates are a wonderful gift for that special someone or occasion! Click here to inquire about or order a gift certificate for that special someone.  bdi.lodging@theblackduckinn.com
 Event Hosting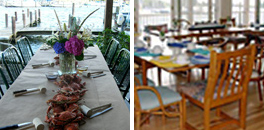 We host private waterside events. Our facility is most suitable for up to 50 guests at our outside area and 35 inside (The Harbor Room). You can host a private picnic of crabs and ribs or something more intimate like a champagne brunch or sit down dinner of very special fare. Our view is spectacular whether you are inside or out. 
Overlooking scenic Rock Hall Harbor and Chesapeake Bay, our beautiful Harbor Room is the ideal location for any venue or theme to suit the occasion: your next party, wedding, reunion, small business seminar and more. Wi-Fi capable.
Our staff can assist with your fishing trip or sunset sail. We provide catering assistance upon request. Please call or send an email to discuss your ideas.
 The Dockside Cafe
Join us on the harbor – at the water's edge. The Dockside Cafe' is an eclectic waterfront cafe' located on Rock Hall Harbor at the Black Duck Inn. Situated on the waters' edge, the Dockside Cafe' is open on Sunday Mornings from 7:30 am, offering only the freshest seasonal ingredients to create some very eclectic fare. Herbs, tomatoes and veggies are grown on the premises. - click for menu -

The breakfast pizzas have hooked many locals as well as boaters who visit every Sunday morning to partake of this delightful concoction. The pastries and orange juice are absolutely fresh. The egg sandwiches and wraps can be had with tons of veggies, spiced up for the "chili heads" or played down for the kids. There is always a special wrap or pizza such as the Dockside Oscar: an abundance of tender asparagus with egg, ham, sprouts and spinach harmonized with a very delicate sherried, white cheese, lemon sauce. Patrons relax and enjoy the spectacular view of sailboats passing (almost within arms reach), blue herons gracing the docks and osprey with fish in flight.
The cafe' is at the water's edge. Many of the patrons come by boat, tie up and enjoy a delightful, relaxing morning at the cafés alfresco, dockside, dining area. Enjoy!